Open Mic, every Thursday: Hosted by Linwood Boswell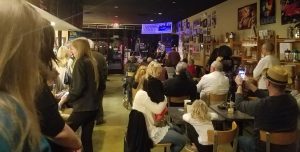 It is no surprise that I hang out at the open mics around Richmond, Virginia.
Why?
What started as a favor turned into more as I watched local musicians grow.  You never know when that hesitant musician getting on the stage for the first time will find their calling and bloom into polished performers.  One of my top joys in life is seeing a new musician excited to share their words and sounds, they can't do it alone.
While I am sure all the open mics in town have supportive hosts, Linwood Boswell strives to grow a community of support around each and every musician. I have watched many people gain their courage to find a bigger stage…a bigger audience…or even record an album after feeling the love of this little coffee shop.
The host of this tiny coffee shop doesn't let size bother him.  Linwood will figure out a way for artists to have what they need despite the small stage.  And if fear guides you…this is the community for you. They will have your back until you are ready to take the plunge and hop up on that stage.
Want to know more about Linwood's music..stay posted, there will be an interview soon.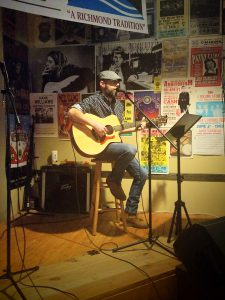 What you need to know about attending the open mic:
The best time slots go fast so come early…sign up starts at 6:30 every Thursday.
Have your instrument tuned and ready to plug in.
Covers and Originals are welcome.
Stay to see other people perform.  Not only is it rude to duck out every week, but the only way to become part of a supportive community is to be supportive.
This is not karaoke…be prepared and bring an instrument or ask another performer to back you up…another reason to stick around.
Feel free to bring your amp if you want a little extra jazz in your guitar
If you have a small band…give it a shot, bring your instruments (not a full drum kit) and Linwood will figure some way to fit you all on the stage.
And if you can stay late…then stay late! Late is when the magic begins and musicians start open jamming and finding their place in each other's hearts.  This is when you may find those band mates you have been seeking…oh look another reason to stick around.
And last but not least…help keep this a free event…eat, drink, tip the staff.
If you do all these things your open mic experience could become an open opportunity!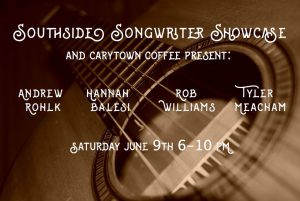 Want to play in one of Linwood's Southside Songwriter Showcases?  What is a showcase?  One way to see if this is for you, is to come by on   6/9/2018  at 6:00 and check out Andrew Rohlk, Hannah Balesi , Rob Williams,  and Tyler Meacham.
Here is how this opportunity works, all you have to do is frequent the open mics, grow your performance, use what you learn from others and leave an impression.  You never know, Linwood may choose you for an upcoming showcase when he sees that you are ready. And your opportunities don't stop at the coffee shop door…people like me are always looking for the talent in RVA.
Here are a couple of RVA bloomers…
Bismuth RVA's Emma Garell and Eli Gilmer: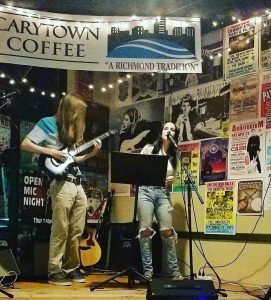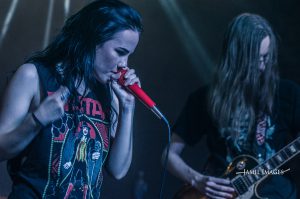 Emma and Eli both had a background from School of Rock performance program.  They had always had a band behind them, but one day Emma decided to try something new.  Now Emma leads a thriving hard rock band, Bismuth RVA, and she couldn't have done it without the support of the open mic community and hosts.
Emma is actually about to head to the west coast to explore some opportunities.  If you want to see something special, head over to Carytown Coffee on 6/9/2018 at 4:00.  Bismuth is going to unplug their hard rock set for the first time and say farewell to their vocalist….You don't want to miss.
www.bismuthrva.com

Andrew Rohlk:
Plenty to say about this guy…  Other than hosting another one of Richmond's top open mics over at The Camel  he has been in hiding his music for five years and has finally shown his face again around RVA music scene.  Check out my latest update on Andrew if you want to learn more about his come back.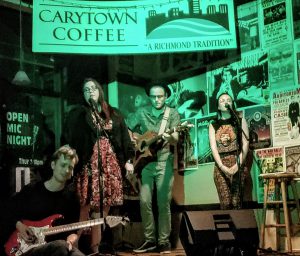 After We Praey:
After We Praey impressed us with their grungy stripped down covers and originals. They have been picking up fans and shows all over RVA and beyond.   Many of their shows are for charity so head over to their site and send them some love.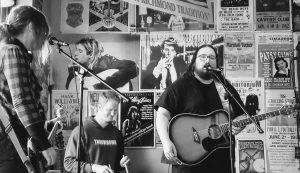 Jonathan Facka:
Jonathan started coming in to Carytown Coffee Open Mic about a year ago as well and spent his time wisely perfecting his collection of songs until he was ready to put them in an album.  Check out his album Streetlight in the Woods on Spotify.

So much more…
*Honestly, I could go on and on…but you have a few highlights and guidelines…so what are you waiting for?
**Commence Photo Dump: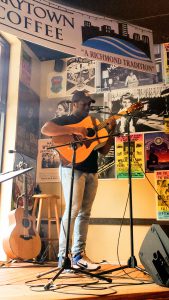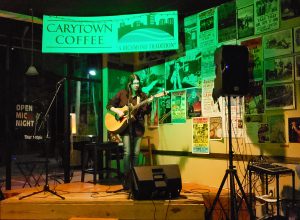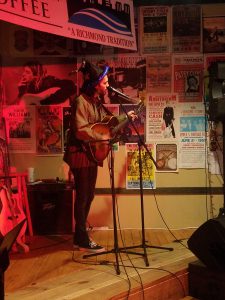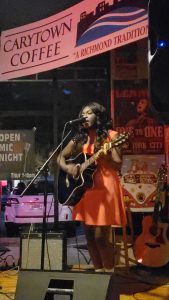 *I apologize if I left anyone out…but I can only say so much at once…give me a shout out if you need a little extra love.
**Again, I am not a photographer!
–observations and opinions of Melanie Garell