Have you seen this guy?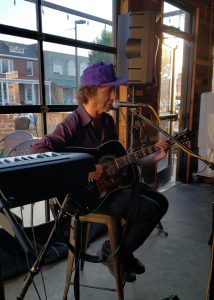 –Observations and Opinions of Melanie Garell
The first time I saw and heard Keith Bowniece  he performed "Lust for Life" by Iggy Pop over at The Camel Open Mic late 2017.  Musicians and music lovers knew right away that this guy was the real deal.  Yes, I didn't just hear whispers but confident statements from other musicians that "this guy has a story".  It wasn't long before I asked Keith if he wouldn't mind meeting to tell me that story.  He appeared excited…or as excited as Keith can appear.  It isn't his slight smile that gave me a sense that he was excited, but his eyes.   It is that light I see in the eyes of the young musicians so often that warms my heart.  That light is the reason I ask them questions and the reason I do what I can to connect them with people who will keep their music alive.
Can we keep Keith's music alive?
I felt a little sad upon my arrival after he expressed that he had concerns about me showing up at all.  My heart didn't hurt because I felt doubted it hurt for him; leaving me to wonder how many people have left him with empty promises?"  The short one on one time that I spent with Keith that day taught me plenty about one musician's journey, music history and surprisingly…myself.
Yes, he has a pattern of arriving early to the venues and leaving before dark, but what we didn't know is that he wasn't on his own schedule…but the bus schedule.  He makes his way around town between open mic opportunities, music venues and Barnes & Noble.   Since our interview back in May I have been getting regular "Keith B. Sighting" alerts from musicians around town.  All in fun of course, but really people wanted to know more about him.  His calm demeanor as he strums through early punk has caused quite a buzz.  We all continued to see Keith around town at the open mics, and it wasn't long before we all knew his name and not just "that guy with the purple hat".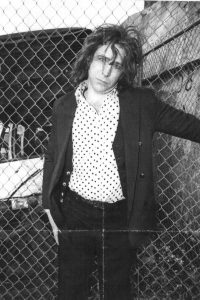 It is natural for us to rush to label each other, you may even want to say he sounds like…Lou Reed.  Well don't, he hates that.  His biggest influences have been Pete Townshend, Iggy Pop, Keith Richards and a heavy influence of 1950s rock.  Like many singers that also play guitar he classifies himself as a guitarist who sings.  I usually only see him play solo on an acoustic guitar but if I imagine him on electric with his band surrounding him I hear a blend of punk, rockabilly and even swamp rock.  Currently, he is looking for area gigs and has a few guys to play with him, but I would have loved to have seen Keith with his band the "Hopscotch Kidnappers".
"I hate being compared to Lou Reed."  I chuckled and he paused and took a hit off his cigarette and said with a straight face "I do."
This quiet man did not seem so quiet anymore.  Like many of us, we just want someone to hear us and appreciate us for who we really are.  When a musician shares their lyrics and sounds they are in their most vulnerable space.  They share their most deepest private feelings and thoughts with strangers for the love of their craft. They are some of the most devoted people I have ever met.  More often than not I see them sacrifice everything in order to play music.  I see them give up daily comforts, family, money and even their health.  Keith sacrificed plenty for music, he never married nor had children…he commented briefly about needing money to have a family.  We then went into a deeper discussion about musician's income and under appreciation and how the industry can kill you in exchange for that money.  He does regret not conforming just a little and playing the game, there is a price to pay.  I know this is an ongoing discussion in the music community…I hear it everyday from almost everyone.  Take it from someone who has been there…a little conformity in the music industry can go a long way.
I'd rather be hated for who I am, than loved for who I am not.
                                                     --Kurt Cobain
  
Rumor has it…
that there are four to five cassettes, two cds, and one vinyl roaming around.  As many would be Keith is bummed that he has very few copies left in his possession and can't seem to find any out there.  So let's help keep his music alive.
Please, if you come across any of his music send it my way and I will be sure to preserve it and share it.
So where did Keith come from…where has he been…where is he going?
Keith grew up in Long Island, if you listen closely you can still hear what remains of his accent.  He started playing music in his 20's and spent a big chunk of that time with his band "The Hopscotch Kidnappers".  He appears to have spent most of his music career in New England…he was a little vague about this time of his life.  Maybe he doesn't think it was important enough to share, but someone did…a little research led me to a couple of fans and journalist writing about him back in the Boston area.  Including this tidbit from The Noise–Boston November 2003, Issue #236  describing a little stage altercation.  It wouldn't be rock n' roll without it!
I'd forgotten all about him!

The legendary one used to show up at my jam in Boston in the late 80's/early 90's. 
Always an energetic performance but I'd have trouble getting other jammers to 
play with him! I'd end up having to back him myself. Quite a character who used 
to do a decent version of Slim Harpo's Hip Shake. The last time I saw him was 
maybe late 90's hanging out around Berklee and he'd just made his first 45 record. 
Perhaps the last of the records. Of course, not many people were buying rekkids then!
Amazed to see this link here!!!!  --boogie02130
We joked a bit about the cold weather in New England…and maybe that is how he ended up in Roanoke, Virginia.  We chatted a bit more about Roanoke being a bowl…a bowl maybe people shouldn't stay in too long.  So he didn't, now settling into Richmond, Virginia and we are happy to have him.   He has been playing at least four times a week at area open mics at My Noodle, Cary Street Cafe, Thirsty Joe's, Poe's Pub and The Camel.  He seems to really click with the music scene here and has made his way through town…Once Again.
           Once Again?  He didn't share this with me, but thanks to the magic of the internet I found that he did play a show in Richmond back in 2008 with local bands Rattlemouth and Unity Sound over at Gallery5.  Keith is continuing to look for gigs in town and has landed a couple including First Fridays.
How can you help preserve Keith's music?  Help us find his recordings, send gigs his way, or just ask him to jam with you!
Rattlemouth
Unity Sound
Keith Bowniece & the Hopscotch Kidnappers (CD Release!)

Rattlemouth Headlines CD Release Party At Gallery5

On Friday, February 22, Gallery5 will host another exciting evening of 
diverse local music, beginning with the cd release performance of 
Keith Bowniece & the Hopscotch Kidnappers (a trio of guitar/vocals, 
cello/electronics, and percussion whose music is rooted in traditional blues, 
rockabilly, and punk, with an experimental edge) offering tunes from their 
brand new disc, "I Hate Cell Phones and Rude Obnoxious People." 
Following will be Unity Sound, a righteous traditional Reggae band featuring, 
on keyboards, the long-time Awareness Art Ensemble mainstay, OJ Hunter. 
The festivities will conclude with a set from Rattlemouth, 
Richmond's World Jam favorites. Doors open at 7pm, 
snacks and a cash bar will be available, and the cover is $7.

POSTED BY BROOKE SAUNDERS 

NO COMMENTS: 


LABELS: RATTLEMOUTH HEADLINES CD RELEASE PARTY AT GALLERY5